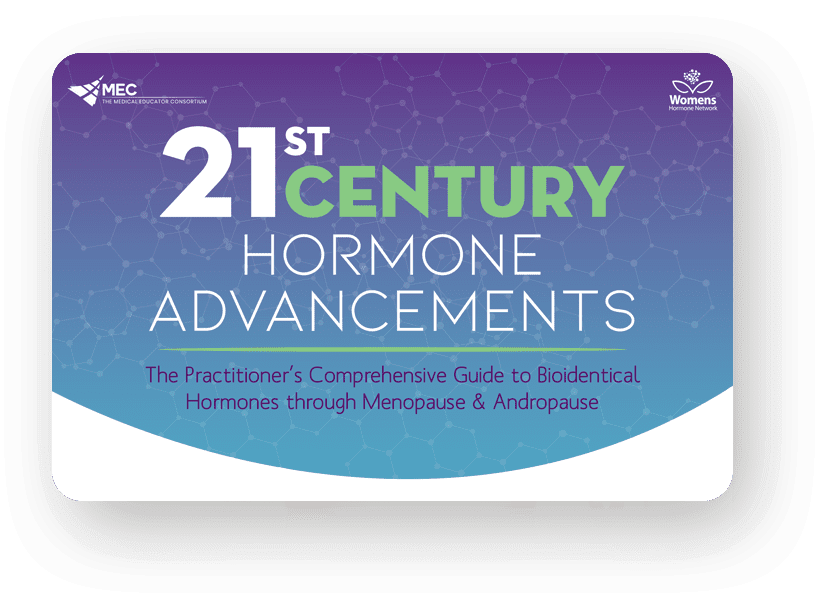 21st Century Hormone Advancements
The Practitioner's Comprehensive Guide to Bioidentical Hormones through Menopause & Andropause
November 7-10, 2019 @ Marriott Irvine Spectrum
7905 Irvine Center Drive, Irvine CA 92618
For Hotel Reservations Call: (800)-357-0855
"21st Century Hormone Advancements: The Practitioner's Comprehensive Guide to Bioidentical Hormones through Menopause & Andropause" symposium is designed to provide the most comprehensive overview of the most popular approaches to replace and restore hormones in men and women, showcasing in-depth strategies on how to optimize those hormones through low dose static replacement, hormone pellet implants, and rhythmically dosed physiologic restoration.
Attendees will also obtain up-to-date knowledge in hormone treatment strategies as they relate to PCOS, breast cancer, prostate cancer, sleep and stress issues, transgender reassignment advances, sexual dysfunction, heart disease, BPH and lower urinary tract symptoms, and infertility.
Our target audience is designed for physicians, nurses, pharmacists, physician's assistants, and other health care providers involved with the support of patient's utilizing hormones.
Curriculum & Program Schedule
Day One : November 07
| | |
| --- | --- |
| 7:00AM | Registration, Continental Breakfast |
| 8:30AM | Hormonal Bioidentity - Ron Rothenberg MD |
| 9:15AM | Thyroid Hormone Optimization - Barbie Barrett MD |
| 10:00AM | BREAK |
| 10:15AM | Women's Hormones- Bioidentical HRT - Kris Hart FNP |
| 11:00AM | Testosterone in Women & Sexual Dysfunctions - Barbie Barrett MD |
| 11:45AM | LUNCH |
| 1:15PM | Testosterone Optimization in Men - Ron Rothenberg MD |
| 2:00PM | Growth Hormone - Andy Jurrow MD |
| 2:45PM | BREAK |
| 3:00PM | Testosterone & Male Sexual Dysfunctions - Ron Rothenberg MD |
| 4:00PM | Q & A - Panel |
| 4:30PM | Adjourn for the Day |
Day Two : November 08
| | |
| --- | --- |
| 7:00AM | Continental Breakfast & Exhibitor Visit |
| 8:30AM | The Art & Science of Compounding: What to Look for in a Compounding Pharmacy - Mike Hua Pharm D |
| 8:45AM | DHEA & Cortisol – HPA Axis Dysfunction - Andy Jurrow MD |
| 9:45AM | BREAK & Exhibitor Visit |
| 10:00AM | Hormone Lab Testing & the Office Visit - Kris Hart FNP |
| 10:45AM | Nuts & Bolts of Hormone Restoration for Men & Women: A How to Guide - Ron Rothenberg MD |
| 11:45AM | LUNCH & Exhibitor Visit |
| 1:15PM | PCOS: SOS: The Importance of Hormones & Diet - Felice Gersh MD |
| 2:15PM | Hormones – Skin & Hair - Barbie Barrett MD |
| 3:00PM | BREAK & Exhibitor Visit |
| 3:15PM | Heart Health: Hormones & the Cardiovascular System - Felice Gersh MD |
| 4:15PM | Q & A - Panel |
| 4:45PM | Adjourn for the Day |
Day Three : November 09
| | |
| --- | --- |
| 7:00AM | Continental Breakfast & Exhibitor Visit |
| 8:30AM | Women, Hormones, & Cancer Treatment Bioidentical vs. Commercial - Uzzi Reiss MD |
| 10:00AM | BREAK & Exhibitor Visit |
| 10:15AM | Prostate Cancer & Testosterone – Should you Treat? - Ron Rothenberg MD |
| 11:00AM | Benign Prostatic Hyperplasia (BPH) & Lower Urinary Tract Symptoms (LUTS) in Men - Andy Jurow MD |
| 11:45AM | LUNCH & Exhibitor Visit |
| 1:15PM | PMS & Infertility Treatment, Nutrition - Uzzi Reiss MD |
| 2:15PM | Hormone Replacement with Pellet Implants for Men & Women - Stephen Center MD |
| 3:15PM | BREAK & Exhibitor Visit |
| 3:30PM | Physiologic Hormone Restoration –What is it? (more tomorrow) - Felice Gersh MD |
| 4:30PM | Q & A - Panel |
| 5:30PM | Adjourn for the Day |
Day Four : November 10
| | |
| --- | --- |
| 7:00AM | Continental Breakfast |
| 8:30AM | The Basics of Physiologic Hormone Restoration - Rebecca Provorse ND |
| 9:15AM | Physiologic Restoration Management & Case Studies - Gretchen Jones PA-C & Rebecca Provorse N |
| 10:45AM | BREAK |
| 11:00AM | Physiologic Hormone Restoration & Cancer - Julie Taguchi MD |
| 12:00PM | Transgender Transformation Using Physiologic Restoration - Rebecca Provorse ND |
| 12:45PM | Q & A - Panel |
| 1:15PM | Adjourn for the Day |