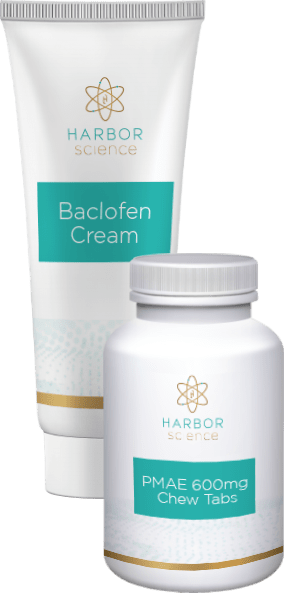 WHAT IS THIS MEDICATION?
Baclofen is a muscle-relaxant drug. Baclofen is used to reduce and relieve the excessive tension in your muscles (spasms) occurring in various illnesses such as cerebral palsy, multiple sclerosis, cerebrovascular accidents, spinal cord diseases and other nervous system disorders.
Palmitoylethanolamide (PMAE) is an endogenous fatty acid amide, belonging to the class of nuclear factor agonists. PMAE has been demonstrated to bind to a receptor in the cell-nucleus (a nuclear receptor) and exerts a great variety of biological functions related to chronic pain and inflammation.
HOW IS BACLOFEN COMPOUNDED?
Baclofen is commonly compounded as a topical 2-5% vaginal cream.

PMAE is commercially available as a 600mg chewable tablet.
WHAT IS HAPPENING IN BODY FOR THOSE WOMEN EXPERIENCING VULVODYNIA?
In patients suffering from vulvodynia, an exaggerated response to inflammation due to a decreased ability to downregulate the inflammatory activity is currently seen as a cornerstone in disease pathogenesis.3 Vulvodynia has been recognized as a cytokine-mediated pain syndrome, characterized by increases in proinflammatory cytokines i.e IL-8, and decreases in anti-inflammatory cytokines i.e. IL-10.4 Localized neuroinflammation may alter ion channel activity of peripheral axons, resulting in. sensitization and enhanced perception of pain in the local area.5
Within the context of neuroinflammation, it would be very likely that the synthesis of the autocoid bioactive lipids from the classes N-acylethanolamides (among which palmitoylethanolamide) is disturbed
HOW DO THESE INGREDIENTS WORK IN THE HUMAN BODY?
Baclofen is a derivative of the neurotransmitter γ-aminobutyric acid (GABA). It is believed to work by activating (or agonizing) GABA receptors, specifically the GABAB receptors.2 Its beneficial effects in spasticity result from its actions in the brain and spinal cord.1
Topical and systemic replenishment of PMAE may bring relief from pain by targeting tissue components of the vaginal epithelium, such as free nerve endings of nociceptors, immunocompetent cells, and epithelial cells.
WHICH CONDITIONS HAVE THESE INGREDIENTS BEEN STUDIED FOR?
Baclofen has been studied for the use in women experiencing:
Vulvodynia4,6
Proctodynia4,6
Vestibulodynia7
PMAE has been studied for use in women experiencing:
WHAT ARE THE RESULTS OF THE CLINICAL STUDIES?
Vulvar and Anal Pain
A 33-year-old woman with intractable chronic vulvar and anal pain had to abstain from sexual intercourse and could neither cycle nor sit for more than 5 min. The patient did not respond to standard treatments. We prescribed a combination of topical baclofen 5 % and palmitoylethanolamide 400 mg, three times daily. After 3 months her symptoms decreased more than 50 % and sexual intercourse was possible again without pain.6
Vestibulodynia
In a retrospective evaluation of 38 patients with provoked vestibulodynia (PV), 2% amitriptyline and 2% baclofen cream was used. After 33 weeks of treatment, 53% of women reported much (>60%) improvement, 18%, reported moderate (30-60%) improvement , and 29% reported no or little (<30%) improvement. On self-administered questionnaires, patients reported a decrease in the extent to which the condition interfered with social activities (p=0.17), easier lubrication (p=0.22), and lower pain with intercourse (p=0.05). No patients experienced systemic side effects.7
AT WHICH DOSES HAVE THESE INGREDIENTS BEEN STUDIED AND HOW SHOULD THEY BE USED?
Baclofen Cream has been studied at doses of 2-5% applied to the vulvar, vestibular and anal areas up to three times daily4,7
PMAE has been studied at doses of 400mg orally three times daily.6 PMAE is available as 600mg tablets and may be taken twice daily for the same equivalent daily dose.
WHAT SIDE EFFECTS MAY BE CAUSED BY THESE INGREDIENTS?
Although Nyirjesy7 reported no systemic side effects with topical baclofen therapy, the most common effect when taken orally is transient drowsiness (10 to 63%). In one controlled study of 175 patients, transient drowsiness was observed in 63% of those receiving baclofen compared to 36% of those in the placebo group. Other common adverse reactions are dizziness (5 to 15%), weakness (5 to 15%) and fatigue (2 to 4%).
Neuropsychiatric: Confusion (1 to 11%), headache (4 to 8%), insomnia (2 to 7%); and, rarely, euphoria, excitement, depression, hallucinations, paresthesia, muscle pain, tinnitus, slurred speech, coordination disorder, tremor, rigidity, dystonia, ataxia, blurred vision, nystagmus, strabismus, miosis, mydriasis, diplopia, dysarthria, epileptic seizure.
Cardiovascular: Hypotension (0 to 9%). Rare instances of dyspnea, palpitation, chest pain, syncope.
Gastrointestinal: Nausea (4 to 12%), constipation (2 to 6%); and rarely, dry mouth, anorexia, taste disorder, abdominal pain, vomiting, diarrhea, and positive test for occult blood in stool.
Genitourinary: Urinary frequency (2 to 6%); and rarely, enuresis, urinary retention, dysuria, impotence, inability to ejaculate, nocturia, hematuria.
Other: Instances of rash, pruritus, ankle edema, excessive perspiration, weight gain, nasal congestion. Some of the CNS and genitourinary symptoms may be related to the underlying disease rather than to drug therapy. The following laboratory tests have been found to be abnormal in a few patients receiving baclofen: increased SGOT, elevated alkaline phosphatase, and elevation of blood sugar.
WHAT PRECAUTIONS SHOULD BE KEPT IN MIND WHEN PRESCIBING THESE INGREDIENTS?
Although Nyirjesy7 reported no systemic side effects with topical baclofen therapy, patients should be cautioned regarding the operation of automobiles or other dangerous machinery, and activities made hazardous by decreased alertness due to the possibility of sedation. Patients should also be cautioned that the central nervous system effects of baclofen may be additive to those of alcohol and other CNS depressants.
Baclofen should be used with caution where spasticity is utilized to sustain upright posture and balance in locomotion or whenever spasticity is utilized to obtain increased function. In patients with epilepsy, the clinical state and electroencephalogram should be monitored at regular intervals, since deterioration in seizure control and EEG have been reported occasionally in patients taking baclofen.
ARE THESE INGREDIENTS SAFE DURING PREGNANCY AND BREASTFEEDING?
Pregnancy
Baclofen is a pregnancy category C drug. There are no adequate and well-controlled studies that have been performed with pregnant women. Therefore, these ingredients should not be given to pregnant women.
Breastfeeding
It is not known whether this drug is excreted in human milk. Therefore, nursing mothers receiving these ingredients should not breastfeed.
WHEN SHOULD THESE INGREDIENTS NOT BE PRESCRIBED?
Hypersensitivity to baclofen, PMAE or any of the components of the cream.
HOW DO THE INGREDIENTS MOVE THROUGH THE HUMAN BODY?
Baclofen
Absorption: [Local] within 10 minutes
Metabolism: [Systemic] 15% Liver by deamination
Excretion: [Systemic] 85% is excreted unchanged in the urine and feces. Excretion is complete within 72hours after administration
PMAE
Metabolism: PMAE is metabolized by the cellular enzymes fatty acid amide hydrolase (FAAH) and N-acylethanolamine acid amide hydrolase (NAAA), the latter of which has more specificity toward PMAE over other fatty acid amides
WHAT CAN HAPPEN IF TOO MUCH OF THESE INGREDIENTS ARE TAKEN?
Overdosage of baclofen include vomiting, muscular hypotonia, drowsiness, accommodation disorders, coma, respiratory depression and seizures.
HOW ARE THESE INGREDIENTS STORED?
Store at room temperature.
REFERENCES
Brayfield, A, ed. (9 January 2017). "Baclofen: Martindale: The Complete Drug Reference". MedicinesComplete. London, UK: Pharmaceutical Press. Retrieved 15 August 2017.
Facci, L.; Dal Toso, R.; Romanello, S.; Buriani, A.; Skaper, S. D.; Leon, A. (1995). "Mast cells express a peripheral cannabinoid receptor with differential sensitivity to anandamide and palmitoylethanolamide". PNAS. 92 (8): 3376–3380.
Eppsteiner E, Boardman L, Stockdale CK. Vulvodynia. Best Pract Res Clin Obstet Gynaecol. 2014;28(7):1000–1012
Keppel Hesselink JM, Kopsky DJ, Sajben NL. Vulvodynia and proctodynia treated with topical baclofen 5% and palmitoylethanolamide. Arch Gynecol Obstet. 2014;290(2):389–393.
Akopians AL, Rapkin AJ. Vulvodynia: the role of inflammation in the etiology of localized provoked pain of the vulvar vestibule (vestibulodynia). Semin Reprod Med. 2015;33(4):239–245.
Keppel Hesselink, J.M., Kopsky, D.J. & Sajben, N.L. Arch Gynecol Obstet (2014) 290: 389.
Nyirjesy, Paul MD1; Lev-Sagie, Ahinoam MD2; Mathew, Leny MS1; Culhane, Jennifer F. PhD. Topical Amitriptyline-Baclofen Cream for the Treatment of Provoked Vestibulodynia. J. Lower Urinary Tract Disease. 2009;13(4):230-236.
MEDICAL DISCLAIMER
This prescriber's guide does not provide medical or legal advice. All content found on this prescriber's guide, including text, images, audio, or other formats were created for informational purposes only. Viewing this prescriber's guide, receipt of information contained in this guide, or the transmission of this information from our pharmacy does not constitute a pharmacist-patient relationship.
The medical information on this guide is not intended to be a substitute for professional medical advice, diagnosis, or treatment. Always seek the advice of your physician or other qualified health provider with any questions you may have regarding a medical condition. Never disregard professional medical advice or delay seeking it because of something you have read on this prescriber's guide.
If you think you may have a medical emergency, call your doctor, go to the emergency department, or call 911 immediately. Harbor Compounding Pharmacy does not recommend or endorse any specific tests, physicians, products, procedures, opinions, or other information that may be mentioned on any of our content.
Medical information changes constantly. Therefore, the information on our prescriber's guide(s) should not be considered current, complete, or exhaustive, nor should you rely on such information to recommend a course of treatment for you or any other individual. Reliance on any information provided by Harbor Compounding Pharmacy, its employees, contracted writers, or medical professionals presenting content for publication to Harbor Compounding Pharmacy is solely at your own risk.
CONTACT

Harbor Compounding Pharmacy
2000 Harbor Blvd, Suite C100
Costa Mesa, CA 92627