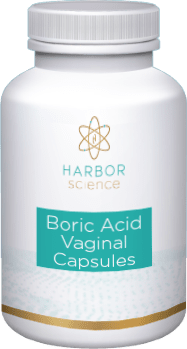 WHAT IS BORIC ACID?
Boric acid (BA) acts as a strong antiviral and antifungal agent in the body.
HOW IS BORIC ACID COMPOUNDED?
Boric Acid is commonly compounded as a 600mg gelatin capsule for vaginal use.
HOW DOES BORIC ACID WORK IN THE HUMAN BODY?
Information regarding the mechanism of action of boric acid in mediating its antibacterial or antifungal actions is limited. Boric acid inhibits biofilm formation and hyphal transformation of Candida albicans, which are critical virulence factors.6 In addition, arrest of fungal growth was observed with the treatment of boric acid.6
WHICH CONDITIONS HAS BORIC ACID BEEN STUDIED FOR?
Boric acid has been clinically studied for use in patients with
Candida1,3
Torulopsisglabrata albrata4
Torulopsisglabrata glabratavaginitis4
Bacterial Vaginosis5
WHAT ARE THE RESULTS OF THE CLINICAL STUDIES?
Boric acid has been shown to help rebalance vaginal pH, restore normal health, relieve internal and external vaginal burning, itching, and irritation, and reduce foul odor due to vaginal infection.
Authors of a 2011 medical review2 report that boric acid is a safe and economical option for people with recurrent or chronic vaginal infections, especially when conventional treatment is ineffective.
Candida
The BASIC study1 indicates that boric acid is effective in treating Candida infections, including cases that do not resolve with common antifungal medications. People with recurrent yeast infections may benefit most from boric acid treatment.
Keller and colleagues3 reported a cure rate for boric acid 600mg of 92% at 7-10 days of treatment for vulvovaginal candidiasis albicans versus a 64% cure rate for nystatin 100,000U.
Torulopsisglabrata. alabrata
One study suggests clinical improvement in seven of nine female patients with mixed infection of T. alabrata vaginitis and BV after atreatment with BA 600 mg intravaginal for 14 nights.4
Torulopsisglabrata glabratavaginitis
Boric Acid 600mg vaginally X 14 days revealed clinical improvement or cures when treating T. glabratavaginitis in 21 of 26 episodes (81%).4
Bacterial Vaginosis (BV)
When Boric Acid was added to nitroimidazole, there was promising long-term (>88 % cure rate at 12 weeks after the study and 50 % at 36 weeks of follow-up) suppression of recurrent BV.5
HOW SHOULD BORIC ACID BE USED?
Boric acid capsules should be used vaginally.
The Centers for Disease Control and Prevention (CDC) recommend using capsules that each contain 600 mg of boric acid once a day for 2 weeks.
According to the CDC, women should use boric acid as a secondary treatment when other antifungal drugs or ointments are unable to treat the yeast infection or if it recurs.
According to RxList, Boric acid is likely safe when used vaginally for up to six months.
For prevention or recurring Candida infections, boric acid may be used vaginally at doses of 60-mg twice weekly.
WHAT SIDE EFFECTS MAY BE CAUSED BY BORIC ACID?
Watery discharge, erythema, slight burning, or gritty sensation with intercourse
WHAT PRECAUTIONS SHOULD BE KEPT IN MIND WHEN PRESCRIBING BORIC ACID?
Fever
Nausea
Vaginal Bleeding
STD
Heart Disease
Blood Vessel disorder
Hormone sensitive conditions such as breast cancer, uterine cancer, ovarian cancer, endometriosis, or uterine fibroids.
Kidney disease or problems with kidney function
IS BORIC ACID SAFE DURING BREASTFEEDING AND CAN I USE IT FOR CHILDREN?
Pregnancy
There are no controlled data in human pregnancy. Animal studies are not available. Boric acid should not be used pregnant women.
Breastfeeding
There is no information regarding this drug on the presence in human milk, the effects on a breastfed infant, or effects on milk production, therefore, mothers receiving boric acid should not breast-feed.
WHEN SHOULD BORIC ACID NOT BE PRESCRIBED?
Pregnancy
Nursing mothers
Boric acid should not be used if abdominal pain, fever, or foul-smelling vaginal discharge is present. Vaginal intercourse should be avoided during treatment.
WILL BORIC ACID INTERACT WITH OTHER DURGS, AND IF SO HOW?
Boron seems to affect the way the body handles other minerals such as magnesium and phosphorus. It also seems to increase estrogen levels in older (post-menopausal) women.
HOW DOES BORIC ACID MOVE THROUGH THE HUMAN BODY?
Absorption. Orally administered BA is readily and completely absorbed.
Distribution. BA appears to be rapidly distributed throughout the body water via passive diffusion. Following administration of BA, the ratio of blood: soft tissue concentrations of boron (B) is approximately 1.0; in contrast, concentrations of B in bone exceed those in blood by a factor of approximately 4.0. In rats, adipose tissue concentrations of B are only 20% of the levels found in blood and soft tissues; however, human data on adipose tissue levels are not available.
Metabolism. BA does not appear to be metabolized in humans owing to the excessive energy required to break the B-O bond. BA has an affinity for cis-hydroxy groups, and it has been hypothesized to elicit its biological activity through this mechanism.
Excretion. BA is eliminated unchanged in the urine. The kinetics of elimination were evaluated in human volunteers given BA orally or intravenously; the half-life for elimination was essentially the same (approx. 21 h) by either route of exposure
HOW IS BORIC ACID STORED?
Keep tightly closed after each use
Keep out of reach from children.
Store in a cool and dry place
REFERENCES
Zeron Mullins M, Trouton KM. BASIC study: is intravaginal boric acid non-inferior to metronidazole in symptomatic bacterial vaginosis? Study protocol for a randomized controlled trial. Trials. 2015;16:315.
Iavazzo C, Gkegkes ID, Zarkada IM, Falagas ME. Boric acid for recurrent vulvovaginal candidiasis: the clinical evidence. J Womens Health. 2011 (8):1245-55.
Keller Van Slyke K, Michel VP, Rein MF. Treatment of vulvovaginal candidiasis with boric acid powder. Am J ObsGyne. 1981;141:145–8
Sobel JD, Chaim W. Treatment of Torulopsisglabrata vaginitis: retrospective review of boric acid therapy. ClinInf Dis. 1997;24:649–52. doi: 10.1093/clind/24.4.649.
Reichman O, Akins R, Sobel JD. Boric acid addition to suppressive antimicrobial therapy for recurrent bacterial vaginosis. Sex Transm Dis. 2009;36(11):732–4.
De Seta F, Schmidt M, Vu B, Essmann M, Larsen B: Antifungal mechanisms supporting boric acid therapy of Candida vaginitis. J Antimicrob Chemother. 2009 Feb;63(2):325-36. doi: 10.1093/jac/dkn486. Epub 2008 Dec 4
MEDICAL DISCLAIMER
The prescriber's guide does not provide medical or legal advice. All content found on this drug info sheet, including text, images, audio, or other formats were created for informational purposes only. Viewing this prescriber's guide, receipt of information contained in this guide, or the transmission of this information from our pharmacy does not constitute a pharmacist-patient relationship.
The medical information on this prescriber's guide is not intended to be a substitute for professional medical advice, diagnosis, or treatment. Always seek the advice of your physician or other qualified health provider with any questions you may have regarding a medical condition. Never disregard professional medical advice or delay seeking it because of something you have read on this drug monograph.
If you think you may have a medical emergency, call your doctor, go to the emergency department, or call 911 immediately. Harbor Compounding Pharmacy does not recommend or endorse any specific tests, physicians, products, procedures, opinions, or other information that may be mentioned on any of our content.
Medical information changes constantly. Therefore, the information on our prescriber's guide(s) should not be considered current, complete, or exhaustive, nor should you rely on such information to recommend a course of treatment for you or any other individual. Reliance on any information provided by Harbor Compounding Pharmacy, its employees, contracted writers, or medical professionals presenting content for publication to Harbor Compounding Pharmacy is solely at your own risk.
CONTACT

Harbor Compounding Pharmacy
2000 Harbor Blvd, Suite C100
Costa Mesa, CA 92627