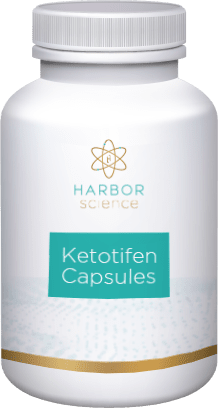 WHAT IS KETOTIFEN?
Ketotifen is a second-generation antihistamine that works by inhibiting mast cell degranulation. Its use has been evaluated as a therapy for eczema, atopic dermatitis, and chronic urticaria with or without angioneurotic edema.1-3
HOW IS KETOTIFEN COMPOUNDED?
Ketotifen is commonly compounded as 0.5mg and 1mg capsules.
HOW DOES KETOTIFEN WORK IN THE HUMAN BODY?
Pharmacological studies have revealed several properties of ketotifen which may contribute to its anti-allergic activity:
In Vivo Results
Inhibition of the development of airway hyperreactivity associated with activation of platelets by PAF (Platelet Activating Factor) or caused by neural activation following the use of sympathomimetic drugs or the exposure to allergen.
Inhibition of PAF-induced accumulation of eosinophils and platelets in the airways.
Suppression of the priming of eosinophils by human recombinant cytokines and thereby suppression of the influx of eosinophils into inflammatory loci.
Antagonism of bronchoconstriction due to leukotrienes.
In Vitro Results
Inhibition of the release of allergic mediators such as histamine, leukotrienes C4 and CD4 (SRS-A) and PAF.
In addition, ketotifen fumarate is a potent anti-allergic substance possessing a powerful and sustained non-competitive histamine (H1) blocking property.
WHICH CONDITIONS HAS KETOTIFEN BEEN STUDIED FOR?
Ketotifen has been clinically studied for use in patients with
Atopic Dermatitis1
Chronic Urticaria2
Chronic Idiopathic Urticaria and Angioneurotic Edema3
WHAT ARE THE RESULTS OF THE CLINICAL STUDIES?
Eczema
In a double-blind, controlled study, half of 56 adult patients with eczema were treated for 3 months with ketotifen capsules 1 mg two times daily, while the other half was given placebo. The patients in the ketotifen group improved significantly during the treatment by all clinical assessments. On the other hand, the patients in the placebo group improved by only one assessment. No drug-related side-effects were observed.1
Chronic Urticaria
In a retrospective review across 18 published studies from 1975 to 2002 totaling approximately 700 patients, Sokol et al found ketotifen to be a safe and effective drug for patients with chronic urticaria even those known to be resistant to the effects of potent antihistamines. This may be due to ketotifen's calcium antagonist and platelet-activating factor inhibitor effects in addition to its stabilizing action on mast cells. In one clinical study that Sokol et al reviewed, 4 of 6 patients out of 51 patients studied were able to stop systemic steroids after starting ketotifen. The average dose studied was 1mg twice daily in adults and older children, and 0.5mg twice daily in young children 6 months to 3 years old.2
Chronic Idiopathic Urticaria and Angioneurotic Edema
26 male and female patients (11 with a history of atopy and 16 with episodes of atopy in the past) with a mean duration of urticaria of 57.3 months were treated with ketotifen tablets three times daily with total dosage ranging from 28-180mg. 80.8% of patients achieved satisfactory results, with complete curation in 16 patients, and a remarkable improvement in 5 patients. Tolerance was excellent at 88.6% of patients. The authors concluded that ketotifen is an excellent therapeutic agent in Chronic Idiopathic Urticaria and Angioneurotic Edema, especially in those cases where traditional therapies have failed.3
AT WHICH DOSES HAS KETOTIFEN BEEN STUDIED?
Ketotifen has been clinically studied in adults with eczema at doses of 1mg twice daily for eczema.1

Ketotifen has been clinically studied at doses of 0.5mg twice daily in young children 6 months to 3 years old for the treatment of chronic urticaria.

Ketotifen has been clinically studied at doses of 28-180mg split three times daily for the treatment of Chronic Idiopathic Urticaria and Angioneurotic Edema.3

In children from 6 months to 3 years: ketotifen has been used at doses of 0.05 mg/kilogram body weight divided twice daily, morning and evening.

To minimize the initial sedation with ketotifen, a slow increase in dosage is recommended during the first week of treatment commencing with one half the daily recommended dosage given in 2 divided doses or in a single dose given in the evening, followed within 5 days, by an increase to the full therapeutic dose.
WILL KETOTIFEN INTERACT WITH OTHER DURGS, AND IF SO HOW?
A reversible fall in the thrombocyte count in patients receiving ketotifen concomitantly with oral antidiabetic agents has been observed in rare cases. Thrombocyte counts should therefore, be carried out in patients taking oral antidiabetic agents concomitantly.

Ketotifen may potentiate the effects of sedatives, hypnotics, antihistamines and alcohol.
WHAT SIDE EFFECTS MAY BE CAUSED BY KETOTIFEN?
Drowsiness, rash, bronchospasm, hypotension, psychosis, fever, bradycardia, chest pain, dizziness, headache, sweating, oedema, pallor.

Potentially fatal: Anaphylaxis. Severe skin reactions. MI, Stroke, GI Bleeding

Thrombocytopenia has been reported when ketotifen fumarate is combined with oral hypoglycemic agents

Elevated Liver Enzymes. Occasional, isolated, instances of elevated liver enzymes levels have been seen during clinical trials. No definite relationship to ketotifen fumarate therapy has been established.

Sedation and, rarely, dry mouth or slight dizziness may occur at the beginning of treatment, but usually disappear spontaneously with continued medication.
Occasionally, symptoms of CNS stimulation, such as excitation, irritability, insomnia and nervousness have been observed, particularly in children. Weight gain has also been reported.

Cystitis has been rarely described in association with ketotifen. Very rarely ketotifen may cause an increase in liver enzymes and hepatitis. Isolated cases of severe skin reactions (erythema multiforme, Stevens Johnson syndrome), have been reported, the occurrence being approximately 1 case in 2 million patients exposed to ketotifen.
WHAT PRECAUTIONS SHOULD BE KEPT IN MIND WHEN PRESCRIBING KETOTIFEN?
General
Symptomatic and prophylactic anti-asthmatic drugs (xanthine derivatives, β2-agonists, sodium cromoglycate, corticosteroids) already in use should not be reduced immediately when treatment with ketotifen is initiated. This applies especially to systemic corticosteroids and ACTH injections because of the possible existence of adrenocortical insufficiency in steroid-dependent patients; in such cases recovery of a normal pituitary-adrenal response to stress may take up to one year.
Convulsions
Convulsions have been reported very rarely during ketotifen therapy. As ketotifen may lower the seizure threshold it should be used with caution in patients with a history of epilepsy.
Occupational
Since drowsiness may occur in the early stages of therapy, patients engaging in activities requiring rapid and precise responses should be cautioned.
GI Bleeding
Potentially fatal increased risk of GI bleed with warfarin.
Thrombocytopenia
Thrombocytopenia has been reported when ketotifen fumarate is combined with oral hypoglycemic agents.
IS KETOTIFEN SAFE DURING BREASTFEEDING AND CAN I USE IT FOR CHILDREN?
Pregnancy
Although ketotifen was without effect on pregnancy and on peri- and post-natal development at dose levels which were tolerated by the mother animals, its safety in human pregnancy has not been established. Ketotifen should, therefore, not be given to pregnant women.
Breastfeeding
Ketotifen is excreted in rat milk. It is assumed that this drug is also excreted in human breast milk, and therefore mothers receiving ketotifen should not breast-feed.
Children
Ketotifen has been studied in pediatric populations as young as 6 months of age.
WHEN SHOULD KEOTIFEN NOT BE PRESCRIBED?
Moderate to severe renal impairment

Pregnancy

Lactation

Hypersensitivity to aspirin or other NSAIDs

Hypovolaemia or dehydration

Do not give postoperatively to patients with high risk of haemorrhage

History of peptic ulcer or coagulation disorders

Nasal polyps

Angioedema

Bronchospasm

GI Bleeding

Cerebrovascular bleeding

Prophylactic analgesic before surgery
WILL KETORIFEN INTERACT WITH OTHER DRUGS AND IF SO HOW?
Potentially fatal: Increased risk of GI bleed with warfarin

Ketotifen may reduce effects of antihypertensives (i.e. ACE inhibitors or angiotension II receptor antagonists). Increased risk of renal toxicity with ACE inhibitors, diuretics.

Increased adverse effects with aspirin or other NSAIDs.

History of peptic ulcer or coagulation disorders

Hallucinatiions may occur when used with fluoxewtine, thiotixene, and alprazolam.

May increase toxicity of methotrexate and lithium.

Incrased plasma concentration with probenecid.
HOW DOES KETOTIFEN MOVE THROUGH THE HUMAN BODY?
Following oral administration of ketotifen fumarate in both man and animals, the absorption is almost complete, as judged from both plasma and urinary excretion levels. The rate of absorption is fast with a half-life of absorption of less than 1 hour.
Bioavailability amounts to about 50% due to a first pass effect of 50% in the liver. After administration of repeated doses, the steady state is attained in less than 4 days. This is in accordance with the half-life of elimination recorded for a single dose of ketotifen fumarate.
Distribution studies after oral or intravenous ketotifen administration in rats showed rapid decline in tissue levels of the total radioactivity in parallel with blood concentrations. Liver, kidney and lung had the highest drug levels. No retention was observed in any of the organs as confirmed by the macro-autoradiographic studies. The drug passes the maternal/fetal barrier; however, only low levels were found in the fetal tissues. Protein binding studies in plasma of different species showed that approximately 75% of the drug was bound within a concentration range of one to two hundred micrograms per mL. Maximal plasma concentrations are reached within 2 to 4 hours.
The metabolism of ketotifen fumarate proceeds by 3 main pathways:
N-glucuronide formation

N-demethylation

Reduction of the ketone group of the nucleus in position 10 giving rise to the 10-hydroxyl derivative.
The main metabolite in man found in both urine and plasma is the glucuronide of the unchanged drug. Nor-ketotifen, the N-demethylated metabolite (2% of the dose) and the 10-hydroxyl derivative (less than 1% of the dose) are the only other detectable metabolites present in human urine. Both the 10-OH derivative and N-glucuronide conjugate may reform the intact product by in vivo reversibility. In rats, nor-ketotifen is the main metabolite, while in the rabbit, the main metabolite is the N-sulphate of norketotifen; in the rhesus monkey the metabolic pattern is very complex. The nor-ketotifen metabolite is found to be approximately as active as ketotifen fumarate. Fifteen different metabolites have been isolated and identified in animal and human species and considerable inter-species differences occur.
The excretion of ketotifen fumarate and its metabolites is rapid in both animals and man. More than 60% of the dose of ketotifen fumarate administered is recovered from the urine. This quantity consists mainly of metabolites since only 1% of the dose is found in the urine as the unchanged drug.
WHAT CAN HAPPEN IF TOO MUCH KETOTOTIFEN IS TAKEN?
Overdosages with up to 120 mg of ketotifen have been reported. The main symptoms of acute overdosage include drowsiness to severe sedation; confusion and disorientation; tachycardia and hypotension; convulsions, especially in children; hyperexcitability in children; reversible coma.
Treatment should be symptomatic.
If ingestion is very recent, emptying of the stomach may be considered. Administration of activated charcoal may be beneficial. If necessary, specific or symptomatic treatment and monitoring of the cardiovascular system and physostigmine for anticholinergic effects are recommended.
If excitation or convulsions are present, short-acting barbiturates or benzodiazepines may be given.
HOW IS KETOTIFEN STORED?
Keep tightly closed after each use

Keep out of reach from children.

Store in a cool and dry place
REFERENCES
Falk ES. Ketotifen in the treatment of atopic dermatitis. Results of a double blind study. Riv Eur Sci Med Farmacol. 1993 Mar-Apr;15(2):63-6.

Sokol, K. C., Amar, N. K., Starkey, J., & Grant, J. A. (2013). Ketotifen in the management of chronic urticaria: resurrection of an old drug. Annals of Allergy, Asthma & Immunology: Official Publication of the American College of Allergy, Asthma, & Immunology, 111(6), 433–436. doi:10.1016/j.anai.2013.10.003

Pinol, J., & Carapeto, F. J. (1984). Ketotifen in the treatment of chronic urticaria and angioneurotic edema. Allergologia et Immunopathologia, 12(1), 19-27.
MEDICAL DISCLAIMER
The prescriber's guide does not provide medical or legal advice. All content found on this drug info sheet, including text, images, audio, or other formats were created for informational purposes only. Viewing this prescriber's guide, receipt of information contained in this guide, or the transmission of this information from our pharmacy does not constitute a pharmacist-patient relationship.
The medical information on this prescriber's guide is not intended to be a substitute for professional medical advice, diagnosis, or treatment. Always seek the advice of your physician or other qualified health provider with any questions you may have regarding a medical condition. Never disregard professional medical advice or delay seeking it because of something you have read on this drug monograph.
If you think you may have a medical emergency, call your doctor, go to the emergency department, or call 911 immediately Harbor Compounding Pharmacy does not recommend or endorse any specific tests, physicians, products, procedures, opinions, or other information that may be mentioned on any of our content.
Medical information changes constantly. Therefore, the information on our prescriber's guide(s) should not be considered current, complete, or exhaustive, nor should you rely on such information to recommend a course of treatment for you or any other individual. Reliance on any information provided by Harbor Compounding Pharmacy, its employees, contracted writers, or medical professionals presenting content for publication to Harbor Compounding Pharmacy is solely at your own risk.
CONTACT

Harbor Compounding Pharmacy
2000 Harbor Blvd, Suite C100
Costa Mesa, CA 92627