What is Incontinence?

Have you ever asked, "Why can't I hold my pee all of a sudden?" A laugh. A cough. A sneeze. An exciting moment. These are things that many women grow to fear or become anxious about if they suffer from urinary incontinence. Some might consider these the lucky ones, especially those who don't only lose control during those moments, but also fear bladder leakage and the loss of urinary control at any moment.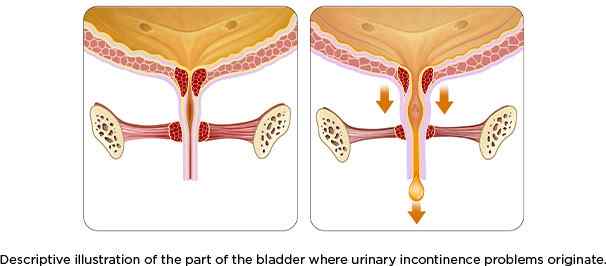 There are many types of urinary incontinence such as urge incontinence, stress incontinence, functional incontinence, and reflex incontinence to name a few. Urinary incontinence affects 4 in 10 menopausal women in the US and is most likely due to the loss of estrogen. This decrease in estrogen weakens the urethra which helps to keep urine in the bladder. Estrogen is the main operating software for women, and with its decline after menopause comes a whole host of other issues ranging from heart disease to osteoporosis. Urinary incontinence, however, maybe one of the most damaging problems of menopause from a psychological point of view since it can cause constant anxiety, and can lead to moments of shame.
Estrogen Therapy Replacement as an Effective Form of Urinary Incontinence Treatment Fortunately, estrogen replacement therapies are effective forms of urinary incontinence treatment that can help alleviate symptoms caused by menopause, and maybe even get rid of it altogether. Choosing an appropriate estrogen, however, is an important step which is most often disregarded.
The human body is mainly run by estradiol, a woman's most potent estrogen hormone that is responsible for a majority of its metabolic functions and gene activation. There are commercially available natural estradiol medications such as Estrace, an estradiol vaginal cream or Vagifem, an estradiol vaginal tablet insert. However, when used vaginally, its concentration is sufficient to make the endometrial lining and breast tissue grow. This is generally not a problem when balanced by progesterone. Unfortunately, this is not a typical recommendation for the use of estradiol vaginal cream. Consequently, when estradiol is used without progesterone, the lining of the endometrium and breast tissue will grow and may eventually cause spotting or bleeding as well as breast tenderness.
More alarming is the use of synthetic estrogens such as Premarin vaginal cream or conjugated estrogens – which are actually estrogens, derived from horse's urine. Oral use of conjugated estrogens has been shown to be ineffective in treating urinary incontinence and may even make incontinence worse. Furthermore, Premarin vaginal cream is very potent and can lead to the same type of bothersome effects of endometrial proliferation and bleeding as well as breast tenderness.
Fortunately, there is a less potent estrogen called estriol. Estriol is a metabolite of estradiol and is usually produced in high concentrations during pregnancy. When applied vaginally, estriol cream, a natural estrogen cream, has been shown to provide relief from vaginal dryness and atrophy, normalize the vaginal flora, and reduce pain from sexual intercourse (Barensten, 1996; Ishiko, 2001; Kesim, 1994; Melis, 1996; Yoshimura, 2000; Trevoux 1982; Luisi, 1980). Furthermore, vaginal estriol cream or other estriol forms has also been shown to relieve urinary symptoms of stress incontinence, dysuria, and urgency to pee. (Barensten, 1996; Ishiko, 2001; Kesim, 1994; Melis, 1996; Yoshimura, 2000; Trevoux, 1982; Luisi, 1980). And since estriol is a much weaker estrogen, chances of spotting, bleeding and breast tenderness may be much lower.
Highlighted Studies
Study 1
Sixty-two women with stress urinary incontinence were randomized to perform pelvic floor muscle training (PFMT), electrical stimulation (ES), and biofeedback (Group 1) or the same treatment combined with an intravaginal estriol 1mg formulation for 6 months. Mean urine leakage using a 24-hour pad test dropped from 42.3 +/- 20.2g/die to 31.5 +/- 14.2g/die in Group 1, and from 48.3 +/- 19.8g/die to 22.3 +/- 10.1g/die in the Estriol group. Symptoms as well as incontinence were significantly better in the group treated with Estriol.1
Study 2
In another study of 60 postmenopausal women with stage I and II stress urinary incontinence, estriol 0.5mg was co-administered with vitamin D3 12,500 IU intravaginally 3 times a week for 6 weeks after subjects failed a 6-week treatment of estriol 0.5 mg + PFMT. High dosed vitamin D may help improve effects of local estriol. The results of the study showed complete remission of urinary incontinence in 1/3 of the women and another 1/3 of the women studied showed a 75% improvement in urinary retention.2
Study 3
In an open, prospective, multicenter, controlled study, 629 women suffering from stress and urgency urinary incontinence were treated with vaginally estriol at a dose of 10 mg daily for 3 weeks, and 10mg twice weekly for another 3 weeks. Of the 629 women who started the study, 552 were available for follow-up after 6-weeks of treatment. Subjective improvements in symptoms of stress urinary incontinence (SUI) were 82% for grade 1, 77% for grade 2, and 69% for grade 3. Voluntary urinary control and symptoms of urgency were improved in more than 80% of patients, and frequency was reduced in almost 50% of women. Compared with conditions at the outset of the study, after 6 weeks, vaginal lubrication was normalized in 77%, and intercourse was no longer painful for 88% of women.3
Estriol is an approved drug in many countries around the world as a vaginal pessary and cream. In the US, however, estriol cream is not available commercially and must be specifically compounded for patients. Fortunately, here at Harbor Compounding Pharmacy, we specialize in women's health and hormone replacement strategies. We are a valued and trusted source for bioidentical hormone formulations including vaginal estriol creams. If you are in menopause and suffer from urinary retention and wish to try one of Harbor's estriol vaginal formulations, call today to speak to one of our pharmacists. We will be able to either request an estriol prescription from your provider or recommend you to one of our trusted hormone practitioners.
Learn more about your treatment options:
References
Castellani D, Saldutto P, Galica V, et al. Low-Dose Intravaginal Estriol and Pelvic Floor Rehabilitation in Post-Menopausal Stress Urinary Incontinence. Urol Int. 2015;95(4):417-421.
Schulte-Uebbing C, Schlett S, Craiut D, Bumbu G. Stage I and II Stress Incontinence (SIC): High dosed vitamin D may improve effects of local estriol. Dermatoendocrinol. 2016;8(1)
Schmidbauer CP. Vaginale Ostriolapplikation zur Behandlung der postmenopausalen Harninkontinenz [Vaginal estriol administration in treatment of postmenopausal urinary incontinence]. Urologe A. 1992;31(6):384-389