Androgenic Alopecia: Treatment Options (Part 2)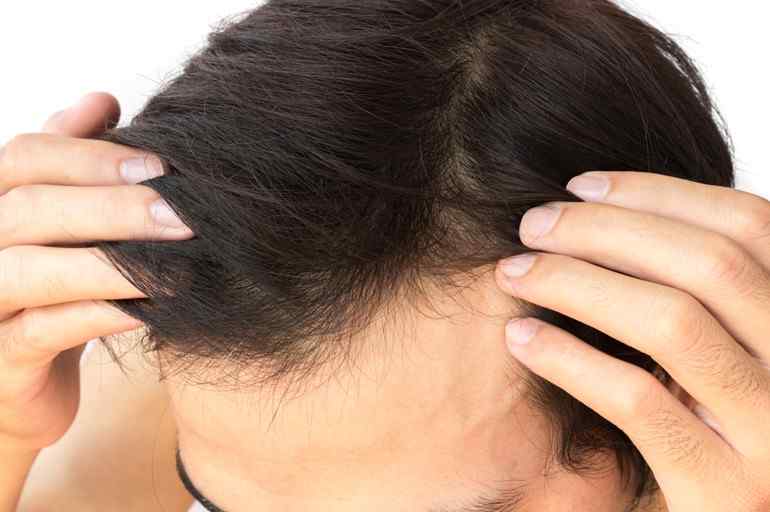 Androgenic Alopecia: Treatment Options (Part 2)
To date, there are two drug formulations that have received FDA approval specifically for the treatment of androgenic alopecia - minoxidil and finasteride. Other agents, including betamethasone and tretinoin, also have shown promise in treating both androgenic alopecia and alopecia areata.
Minoxidil
Arguably the most well-known treatment for pattern baldness, minoxidil gained fame under the brand name Rogaine®, a topical medication approved for use by both men and women. Interestingly, minoxidil did not begin its life as a hair restoration treatment, but as a medication to treat high blood pressure.
As a treatment for hypertension, minoxidil is marketed under the name Loniten®, which is taken orally. In early trials of the drug, researchers were surprised to find that men and women with androgenic alopecia and who were treated with Loniten began to regrow their natural hair in areas that had thinning or recession. After extensive clinical trials, in 1988 the FDA approved topical minoxidil 2% and 5% solution for the treatment of pattern baldness in men; approval for treatment of pattern baldness in women followed in 1991. By 1996, the FDA approved over-the-counter sales of the drug, as well as granting approvals for generic versions of Rogaine.
The medication works by opening potassium channels in vascular smooth muscle tissue, in turn closing calcium channels and decreasing available calcium in the cells, which results in vasodilation. As far as androgenic alopecia is concerned, researchers theorize minoxidil may work in part by making nutrients more available to the follicles while also carrying away built-up toxins by increasing overall blood flow.
Finasteride
Finasteride is an oral medication marketed initially under the brand name Propecia®. Like minoxidil, finasteride's ability to help combat androgenic alopecia was discovered while the drug was being used to treat another condition - in this case, prostate enlargement (benign prostate hyperplasia or BPH). And just as minoxidil is still used in some patients to control hypertension, finasteride is also used to treat BPH in some individuals (under the brand name Proscar®.)
But while minoxidil and finasteride may have similar backstories, their mechanisms of action are very different. While minoxidil appears to work by improving blood flow to and from the affected follicles, finasteride targets DHT synthesis by inhibiting 5-alpha reductase, the enzyme responsible for conversion of testosterone to DHT. This significantly lowers the production of DHT, the hormone that's associated most strongly with androgenic alopecia. (For this reason, it's sometimes referred to as an "anti-androgen.") That means follicles that are especially sensitive to the effects of DHT can continue to function normally. Plus, finasteride also helps prolong the growth cycle of hair, which means the hair isn't shed as quickly. Despite their similarities in promoting hair growth, there is one key difference between minoxidil and finasteride: minoxidil is most effective on hair loss at the vertex, while finasteride has been shown to be effective across the entire scalp.
Oral finasteride is safe to use in men, but in women it's associated with a high risk for birth defects, which means products containing the drug probably aren't the best choice for women of reproductive age. In men, oral intake of finasteride reduces DHT levels in the blood and causes side effects such as decreased libido, erectile dysfunction, and gynecomastia. To avoid these side effects, researchers turn to topical finasteride as a solution. Studies have shown that topical finasteride and minoxidil together appears to have results equivalent to oral finasteride in androgenic alopecia. Furthermore, it has better tolerance and improved patient compliance compared to oral finasteride.
Procap 4: Combination Therapy
While each of these agents works well on its own to promote regrowth of terminal hairs, additional research has been conducted to determine if combinations of agents might be even more effective in treating both androgenic alopecia and alopecia areata - and so far, the results have been very encouraging.
Based on those results, Harbor Compounding Pharmacy had developed a special topical formulation - Procap 4 - to target multiple possible causes of alopecia. The goal of this formulation is to maximize the benefits of finasteride 0.2% and minoxidil 5%, together with two other ingredients, betamethasone 0.05% and tretinoin 0.01%, to help patients achieve optimal results.
Betamethasone and Tretinoin
Procap 4 contains betamethasone, a topical corticosteroid that's shown significant promise in treating hair loss, and tretinoin, a vitamin A derivative predominantly known for its use in fighting acne (as the oral medication Accutane®) and skin aging. In patients with androgenic alopecia, tretinoin has been shown to be very effective in restoring hair growth, and even more effective when used in combination with minoxidil. Tretinoin appears to work by regulating cellular proliferation and differentiation in the epithelium and promoting vascular proliferation, which in turn may help improve blood flow to the follicles and affect the hair follicles during the various growth and regression phases. Tretinoin also helps normalize hyperkeratinization and has demonstrated significant anti-inflammatory effects.
In fact, one major study showed about two-thirds of people in a study group of 56 subjects with androgenic alopecia treated with a combination of minoxidil and tretinoin had terminal hair regrowth after a year of consistent use. In the same study, tretinoin without minoxidil resulted in hair regrowth in about 58% of people, indicating that even used on its own, tretinoin can offer substantial benefits. The study authors noted the combination of minoxidil and tretinoin seems to exert a synergistic effect that encourages additional hair regrowth and a significant increase in hair follicle diameter. This can also be due to the fact that tretinoin can increase the percutaneous absorption of minoxidil by increasing the stratum corneum permeability.
Likewise, research evaluating the combination of betamethasone and minoxidil found that while betamethasone alone resulted in some improvement in hair regrowth, the combination of the two agents was more effective in most patients.
Side Effects
In the studies cited above, all agents were well tolerated during treatment, but there are some side effects worth noting. As noted, finasteride use has been associated with birth defects, and women of childbearing age are advised against using products that contain finasteride. Other side effects, including decreased libido, erectile dysfunction and (rarely) gynecomastia (male breast enlargement) have been noted with the oral formulation of finasteride; the topical formulation used in hair loss treatment appears not to carry those side effects.
The most common side effects associated with minoxidil use include burning and itching sensations and skin redness, all of which resolve with continued use over time. When it is used topically in therapeutic doses, its systemic side effects are very rare due to minimum systemic absorption. Betamethasone has been associated with the development of telangiectasia (spider veins), skin atrophy and local folliculitis in a few patients. However, all these adverse effects were of mild intensity and reversible in nature. Finally, since minoxidil is an antihypertensive agent, patients who take medicine for high blood pressure or blood vessel diseases should be counseled about possible synergistic effects. Obviously, discussing all these potential (although uncommon) side effects is an important part of helping individual patients make their own risk-benefits analysis.
Harbor Compounding Pharmacy: Leaders in Innovation
As a full-service pharmacy in Costa Mesa, Harbor Compounding Pharmacy specializes in creating proactive solutions focused on helping men and women achieve optimal health at every age. A PCAB-certified pharmacy and a member of the Better Business Bureau (BBB), Harbor Compounding Pharmacy is governed by the highest quality control standards and a deep commitment to ethical practices.
Procap 4 was developed using research results from multiple agencies to ensure it is safe, effective and optimized for individual patient use. To learn more about Procap 4, contact Harbor Compounding Pharmacy at 1-800-564-1565 or email us at info@harborcompounding.com
References
Aldhalimi MA, Hadi NR, Ghafil FA. Promotive effect of topical ketoconazole, minoxidil, and minoxidil with tretinoin on hair growth in male mice. ISRN Pharmacol. 2014 Mar 9;2014:575423.

Bazzano GS, Terezakis N, Galen W. Topical tretinoin for hair growth promotion. J Am Acad Dermatol. 1986 Oct;15(4 Pt 2):880-3, 890-3.

Chandrashekar BS, Nandhini T, Vasanth V, Sriram R, Navale S. Topical minoxidil fortified with finasteride: An account of maintenance of hair density after replacing oral finasteride. Indian Dermatol Online J. 2015 Jan-Feb;6(1):17-20.

Ferry JJ, Forbes KK, VanderLugt JT, Szpunar GJ. Influence of tretinoin on the percutaneous absorption of minoxidil from an aqueous topical solution. Clin Pharmacol Ther. 1990 Apr;47(4):439-46.

androgenicHajheydari Z, Akbari J, Saeedi M, Shokoohi L. Comparing the therapeutic effects of finasteride gel and tablet in treatment of the androgenic alopecia. Indian J Dermatol Venereol Leprol. 2009 Jan-Feb;75(1):47-51.

Kwon OS, Pyo HK, Oh YJ, Han JH, Lee SR, Chung JH, Eun HC, Kim KH. Promotive effect of minoxidil combined with all-trans retinoic acid (tretinoin) on human hair growth in vitro. J Korean Med Sci. 2007 Apr;22(2):283-9.

Mounsey AL, Reed SW. Diagnosing and treating hair loss. Am Fam Physician. 2009 Aug 15;80(4):356-62. Review.

Rafi AW, Katz RM. Pilot Study of 15 Patients Receiving a New Treatment Regimen for Androgenic Alopecia: The Effects of Atopy on AGA. ISRN Dermatol. 2011;2011:241953

Shin HS, Won CH, Lee SH, Kwon OS, Kim KH, Eun HC. Efficacy of 5% minoxidil versus combined 5% minoxidil and 0.01% tretinoin for male pattern hair loss: a randomized, double-blind, comparative clinical trial. Am J Clin Dermatol. 2007;8(5):285-90

Tanglertsampan C. Efficacy and safety of 3% minoxidil versus combined 3% minoxidil / 0.1% finasteride in male pattern hair loss: a randomized, double-blind, comparative study. J Med Assoc Thai. 2012 Oct;95(10):1312-6
Sign up for updates!
Keep learning about alternative medication solutions for you, your family, and friends.