Congressman Harley Rouda Visits Local Compounding Pharmacy in California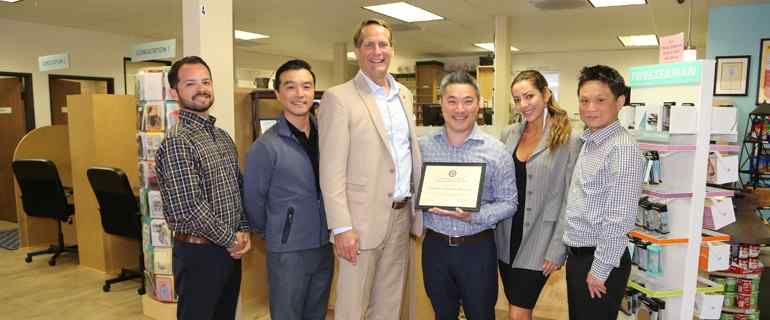 Congressman Harley Rouda Visits Local Compounding Pharmacy in California
On May 29, 2019, Rep. Harley Rouda (D) of California's 48th congressional district visited Harbor Compounding Pharmacy in California to discuss the importance of compounding in regards to patient care. Dr. Michael Hua, pharmacist and owner of Harbor Compounding Pharmacy, and Dr. Sam Kitahara, Director of Regulatory Compliance, presented to Congessman Rouda the vital service compounding pharmacies provide to the community and discussed with him the need for congressional support for key legislative proposals that protect patients' access to compound medications.
Patient Access to Compound Medications: A Growing Challenge
Pharmacy compounding is a fundamental part of pharmacy practice that involves collaboration with prescribers to create individualized prescription medications to treat patients with unique medical needs when the use of mainstream, commercialized medications is not a perfect fit. Most medications that are found at your local CVS or Walgreens pharmacy may work best for the average population; however, what works best for the average population may not work best for the individual patient. Examples of compound medications that are personalized for individual therapies include compounded bioidentical hormone replacement therapy for women in menopause or compounded thyroid medications for hypothyroid patients. Compound medications are even more vitally essential when it comes to veterinary and pediatric medicine, especially pediatric patients who need compound medications for seizures, chemotherapy, cardiac conditions, and more.
Currently, the FDA has oversight on compounding practices per the Drug Quality and Security Act (DQSA) passed in 2013. In their efforts to improve the safety of compound medications, the FDA have proposed regulations that will significantly restrict the practice of compounding medications and therefore will disrupt patient access to necessary compounded drugs. In response to these confining regulations, H.R. 1959 – The Persevering Patient Access to Compound Medications Act – was submitted to oppose the compounding limitations set by the FDA. H.R. 1959, if passed, would clarify the provision related to pharmacy compounding while still being consistent with the legislative intent, which is to protect patient safety. The act will provide for a better balance between public safety and patient access to compound medications.
What does H.R. 1959 Cover?
Allows "for office-use" compounding by traditional compounding pharmacies (503A) if allowed to do so by state laws.
Currently patients who require compound medications to be administered in a doctor's office prior to a procedure would need to acquire the compound medications from a compounding pharmacy and then bring it to the doctor's office for administration. This undue burden on the patient prevents them from having a same day procedure and delays treatment which could negatively affect their particular condition. If H.R. 1959 is passed, doctors can procure compound medications from a compounding pharmacy, then administer these medications directly and immediately to the patient without the interruption of a patient trek to a compounding pharmacy and a second appointment.
Allows for dietary supplements with USP or NF monographs to be usable ingredients for compounding.
Compound medications most likely will contain active pharmaceutical ingredients (APIs), but they may also include the use of ingredients that are considered dietary supplements. Many of these dietary supplement ingredients may work synergistically with APIs, or may be a treatment for specific conditions at doses or dosage forms other than those found at your local vitamin store. For example, ascorbic acid is a form of Vitamin C and is an innocuous antioxidant dietary supplement. However, when compounded into an injection for intravenous administration, it is a potent antioxidant that can be used in anti-cancer treatments. If H.R. 1959 is passed, patients' access to over 400 compounded drugs containing dietary supplements will be preserved.
Removes dispensing limits to out-of-state patients as set by the DQSA
The DQSA contains a provision that will limit the amount of out-of-state distribution of compounded medications to 5% of a pharmacy's total prescriptions unless the state in which the pharmacy is located has entered into a particular agreement with the FDA. Currently, the majority of compounding pharmacies are located in states along both the east and west coast with the exception of Texas. Many states which have a lower population like those in the Midwest, Alaska, or Hawaii, do not have access to compound medications because not many compounding pharmacies exist in their particular state. These patients must have the ability to work with out-of-state compound pharmacies that are licensed in their particular state to provide them with compound medications. H.R. 1959, if passed, would alleviate the distribution limits of a pharmacy's ability to dispense to out-of-state patients and provide access to compound medications for those patients who reside in states which have few or no in-state compounding pharmacies.
Harbor Compounding Pharmacy Supports H.R. 1959
Harbor Compounding Pharmacy recognizes that patients are individuals, and that treatment plans should be individualized to each patient. These treatment plans may include commercial drugs that are readily available and compound medications which are custom created pursuant to patients' needs. Harbor Compounding Pharmacy is aligned with the legislative intent of Congress and promotes regulations that will increase patient safety by ensuring the quality of compound medications without compromising patient access. We support H.R. 1959, and we believe clarification of the Drug Quality and Security Act (DQSA) is necessary in order to maintain access to potentially life-saving compound medications that are vital for patients.
We encourage patients, healthcare practitioners, and stakeholders to contact their Representative to co-sponsor H.R. 1959 and preserve your right to important compound medications. As a licensed compounding pharmacy servicing patients throughout California, Nevada, Washington, Missouri, Colorado, Pennsylvania, Indiana, and New York, we encourage patients and practitioners to foster conversations and support regulatory bills that protect patient access to necessary compound medications, and therefore improving patients' health outcomes and their quality of life.