Fight PCOS, Diabetes, and Infertility with Myoinositol

Do you have polycystic ovarian syndrome (PCOS)? Are you confused about how it affects your overall health? Do you know what to expect when coping with PCOS?
PCOS (Polycystic Ovary Syndrome) is a syndrome of hormonal imbalance that causes your ovaries to release eggs irregularly. Sometimes, this imbalance causes them to stop being released at all.
The hormonal imbalances that cause and maintain PCOS are complex and intertwined. The most common causes include the overproduction of insulin and androgens (testosterone and DHEA). The overproduction of these hormones is linked to other diseases and disorders such as weight gain, diabetes, excess facial hair, acne, and infertility.
This article will review some of the most frequent questions related to PCOS like:
Can you cure PCOS?
Why does PCOS cause so many other diseases?
Why are you gaining weight with PCOS, and how to lose this excess weight?
Why does PCOS affect fertility?
How can the latest myoinositol (MI) treatments help you get pregnant?
And many more. So, keep reading!
Final Words
Untreated PCOS can significantly increase the risk of cardiovascular disease, high blood pressure, insulin resistance, and obesity. The latter two contribute greatly to issues with fertility and pre-eclampsia during pregnancy. Fortunately, studies report that PCOS can be successfully controlled with the use of myo-inositol to help reduce insulin resistance, improve ovarian function, and reduce androgen levels. Because of these benefits, myoinositol has been reported to improve fertility.
Start your healing process today!
The staff at Harbor Compounding Pharmacy are not just pharmacists. They are also scientists. They scour medical research. They look at the latest research in the causes of disease. They find solutions that can potentially treat these causes. And because they are also drug formulation experts, they bring these solutions to life, helping those that want and need affordable, research based, and safe therapeutic options.
PCOS Suppress is a pharmacist formulated supplement featuring myoinositol. It also contains tyrosine, folic acid, selenium and chromium which can support healthy thyroid function.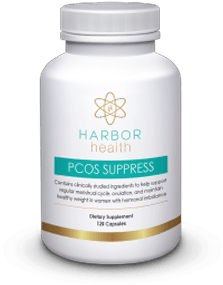 Don't wait any longer to get help for your PCOS. Call one of our expert pharmacists to Place your order today!
Learn More about the PCOS products available at Harbor Compounding Pharmacy
Learn more about your treatment options:
Leave a Reply
Keep learning about alternative medication solutions for you, your family, and friends.